Connect
It can be difficult to figure out how to connect to the internet in your community. We have gathered information on the available internet services for each of the five counties in the Mid-Columbia region, as well as opportunities to connect at hotspots throughout the region as you're figuring out what works for your home or business.
Available Services
Click on one of the counties to figure out what's available where you live or do business. Whether you're looking for a high bandwidth connection to keep you up to speed with your company or interested in being able to check your email from home, there are options available in most areas in the region that will meet your needs.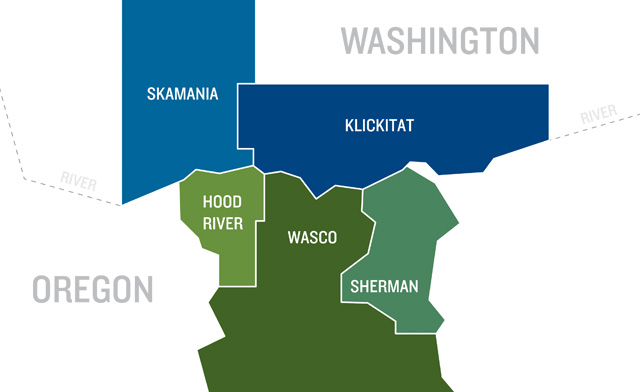 | State | County | Broadband Providers |
| --- | --- | --- |
| OR | Hood River | 15 Broadband Providers |
| WA | Klickitat | 13 Broadband Providers |
| OR | Sherman | 12 Broadband Providers |
| WA | Skamania | 13 Broadband Providers |
| OR | Wasco | 25 Broadband Providers |
Public Access
If finding the right service for you is a challenge, or you just want a change of scenery, there are many places you can access broadband internet throughout the five-county region. These locations vary from public wi-fi that covers downtowns or parks to libraries where you can work in peace and quiet to coffee shops and other local businesses. Take advantage of these great opportunities to connect!
Learn More